Bordeaux Visit 28/5 - 4/6 2001
---
I have been interested in the wines of Bordeaux for years, so I was looking forward to visit the area one day. Some years ago I bought a stuck in the Danish owned Chateau Haux, and through that, I got the possibility to rent Chateau Gourran in Premières Côtes de Bordeaux, near the village Langoiran. You will have to book the Chateau a year before leaving, but then you got something to look forward to!
We were 8 persons, but there were beds for 12 people in 6 rooms. There were a big kitchen, dining room, living room and a poolroom. Outside there were a tennis field and a great Pool with a beautiful view over the country. We had excellent weather with sun all week, so it was absolute a fantastic week! Watch the pictures from Chateau Gourran here !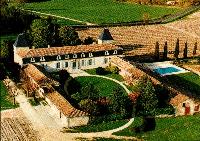 Chateau Gourran


Of cause we should visit the different wine areas to see some of the great chateaus. I had booked a visit to "my" Chateau Haux, and we had a nice visit. After we had been around, we finished the visit with a buffet in the garden, where we tasted all the wines from the Chateau. A lovely day in nice surroundings.See pictures here.

I had also made a deal with the great Chateau Margaux, which we visit on the 4th day. We were guided around, but unfortunately we didn't have a tasting.Photos here.

After the visit at Chateau Margaux, we were around in the Haut Medoc area. We tried to get a tasting at Chateau Beychevelle, but failed again. We continue to Chateau Lanessan a Cru Bourgeois Chateau near the border to St-Julien. Here we paid 35 F for a guided tour in English and afterwards we tasted their wine. It is an old family owned Chateau for more than 200 years. At the Chateau there was also a museum with the family's old Carriage, which was very unique. Pictures from the visit is here
In Medoc we followed the road D2. When you drive on this road, you will pass many of the famous Classified Chateaus. Here is picture of some of them.
Later in the week we visit the small Village Saint Emilion, which I strongly will advice you also to visit. A great old town without car in the center. Just outside the Village you can see the famous Chateau Ausone, and around saint Emilion you will also find some of the other big Chateaus.

On our Bordeaux visit we were dinning both at home and on restaurents. We tasted a lot of the wines from the area, small local wines and some of the knowed Chateaus. In general the wine prices were about 20%lower than in Denmark in the Supermarked. I managed to get the labels from some of the wines, which can be seen below


| | | | | |
| --- | --- | --- | --- | --- |
| about EUR 5,5 | about EUR 7,5 | About EUR 8 | about EUR 4 | About EUR 10 |

We also tasted 3 Cru Chateau Marquis-d'Alesme-Becker 1996 to only EUR 12!, Chateau de Francs 1996, Côtes de Francs to EUR 6, Chateau Lestage 1997, Listrac to EUR 6.5, Caronne Ste-Gemme, Haut Medoc to EUR 5, and of cause we also tasted the wine from the Chateau we were living at, Chateau Gourran 1998 to EUR 5. I bought Chateau Talbot 1998 to EUR 28 and Chateau La Cabane 1997, Pomerol to EUR 14,5.
You will need a car to visit the area and we rent a one via Europcar, which were ready for us, when we arrived in the Airport in Bordeaux. The price was about EUR 360 for a week. The car had air-condition, which were needed as the temperatures in the start of the week were more than 35 degrees Celsius! Mail me for further comments.